Body
Our Mission
Building scalable, sustainable partnerships to accelerate registered apprenticeship (RA) adoption and improve alignment with our nation's workforce and education systems.

National Technical Assistance
Across key RA topics including pre-apprenticeship and RA program development, WIOA co-enrollment, employer engagement, partnership strategies, career pathway development, integrated service delivery and more.

Engaging Key Stakeholders
Including federal agencies, economic development organizations, business, organized labor, industry associations, state and local workforce boards and secondary and post-secondary education to develop effective partnerships around RA and inform state and federal RA policy.

Coordinating Across Investments
With DOL and ETA's Office of Apprenticeship as well as collaborating with State Apprenticeship Agencies (SAAs) and DOL-funded RA investments at the national and state level to serve core RA system customers effectively and efficiently.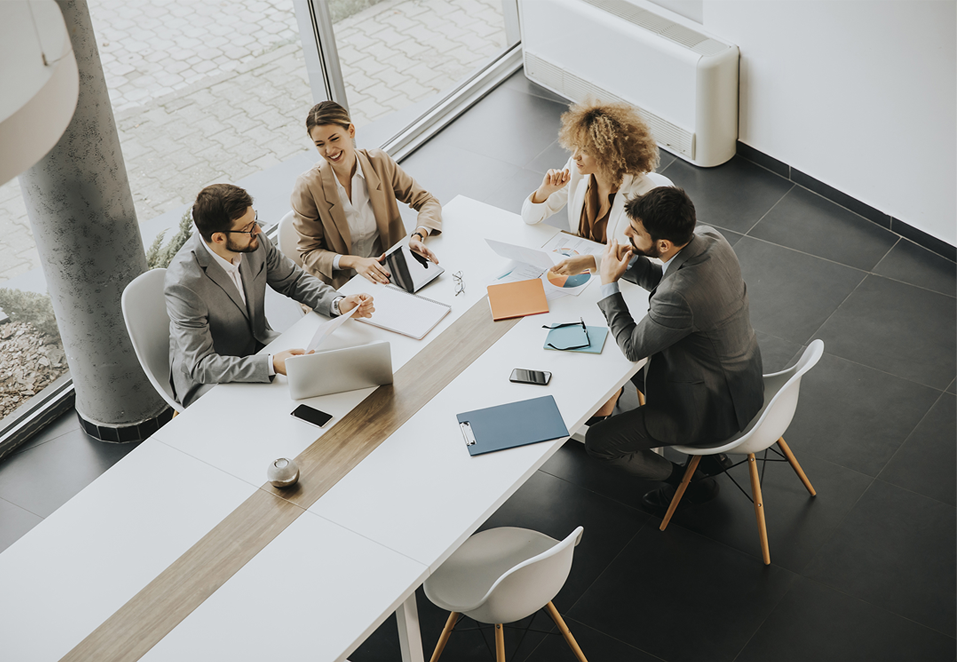 The Center's Work
The Center was developed by the USDOL to establish, build and sustain partnerships that support alignment of industry, workforce and education to accelerate RAP adoption and expansion. This RA TA Center of Excellence will provide technical assistance on a national scope to RAP sponsors and support state and local workforce development boards, American Job Center programs and operators, governors and other essential stakeholders that drive and inform economic and workforce development policies and programs.
Meet the Team: Center Staff
In July 2021, USDOL awarded Safal Partners the grant to lead the National Registered Apprenticeship Technical Assistance Center for Strategic Partnerships and System Alignment. Safal Partners is a national technical assistance provider leading RA expansion efforts for USDOL through multiple grants and contracts as well as a national RA program sponsor for cybersecurity and tech roles. Together with our national and state partners we will deliver robust, field-informed TA on a national scale.
Katie Adams, Project Director:
Katie is a USDOL-recognized subject matter expert (SME) in RA providing technical assistance on several USDOL and National Science Foundation contract and grant-funded programs over the past 11 years. In that role she has focused on advancing industry-aligned adult and youth apprenticeship programs aligned with secondary and post-secondary academic programs and the public workforce system to meet critical occupational needs across several sectors. Her work has directly supported registration of more than 2,500 new apprentices with a focus on historically underserved populations including women, minorities, Veterans and individuals with disabilities. Email Katie
Judy Blanchard, Project Manager
Judy has over 20 years of experience in workforce development successfully leading multi-million-dollar cross-regional efforts focused on convening industry and educational partners to collectively design and deliver talent development programs across emerging sectors. Email Judy
Akshat Parakh, Data Analyst
Akshat gathers insights from data using visualization and analytics algorithms. He has extensive demonstrated skill in data analytics, predictive modeling, data visualization, and social media analytics and has supported several Safal Partners RA-related projects for USDOL Employment and Training Administration (ETA) and Office of Apprenticeship (OA). Email Akshat
Meet the Team: Subject Matter Experts:
Lisa Rice (Focus: Workforce System Alignment)
Lisa has over 20 years of experience in workforce development, including as the former President of CareerSource Brevard in Melbourne, Florida where she provided executive staff leadership over all areas of LWDB management, budgeting, contracting, reporting outcomes of service delivery, system wide technology infrastructure, and fostering effective community relations. Her work included overseeing board assistance to over 9,000 dislocated aerospace workers and developing the Business to Jobs (B2J) model to engage businesses in One Stop Career Centers which has been replicated in several areas nationwide. She has successfully executed workforce board outreach strategies for Safal Partners' national RA industry intermediary contract in tech apprenticeship expansion and provided direct TA and coaching to Closing the Skills Gap grantees. Email Lisa
Gene Ellis (Focus: Workforce System Alignment)
As both the former USDOL Office of Apprenticeship State Director in New Hampshire and State Apprenticeship Agency Director in Maine, Gene oversaw all staff and activities to implement high-quality RA programs with employers, local workforce development boards, industry associations, secondary and post-secondary educational institutions, training providers, labor unions and other stakeholders. He has extensive experience advising workforce boards and educational institutions, including DOL TAACCCT grantees, in RA program development for youth (in conjunction with CTE programs) and for WIOA-eligible populations. Email Gene
Krista Tedrow (Focus: Workforce System Alignment)
Krista has over 10 years of experience as an innovative adult education, workforce training, and career technical education professional with extensive experience as a Workforce Board Director, WIOA and American Job Center operations and program oversight, and various roles within Job Corps including Career Technical Training, Other Training Provider/College Partnerships, Apprenticeship, Work-Based Learning, and Project and Program Oversight. In her role as Executive Director of the South Central Iowa Local Workforce Development Board she has led transition efforts and merging of two former regions to establish 14 county local workforce development area and provides executive management of Local Workforce Development Board (19 members) and County Elected Official Board (14 members). Email Krista
Nicole Klues (Focus: Secondary, Post-Secondary and Adult Basic Education Alignment)
Nicole has more than 14 years of leadership experience in successfully implementing online and blended learning models to enhance learning outcomes in both K-12 and higher education at the local, state, and national levels. Nicole continues to advocate for accessible, equitable education and helps blend high-tech education with high-touch solutions for learners, educators, and administrators. She recently completed leading the USDOL Job Corps National Distance Learning project and previously led the District of Columbia's Public Schools Online Platforms and Professional Development team supporting hybrid and virtual instruction for over 50,000 students and 4,000 educators. She has extensive experience in teaching, creating professional development training, and technical assistance to bridge the digital divide and increase access to career pathways for students. Email Nicole
Christian Lagarde (Focus: Post-Secondary Education Alignment)
Christian has developed partnerships with educational and workforce stakeholders at the national and state level including organizations like Achieving the Dream, American Council on Education, The Aspen Institute, National Association of Workforce Boards, National Association for Community College Entrepreneurship, National Council for Workforce Education and The Urban Institute. As the former Project Manager in Workforce and Economic Development at the American Association of Community Colleges (AACC) his work supported over 700 community college USDOL Trade Adjustment Assistance Community College and Career Training (TAACCCT) grantees. He oversees IHE outreach strategy for Safal Partners' RA national industry intermediary contract through which he also developed the firm's LMS for cyber and tech RA related technical instruction (RTI). Email Christian